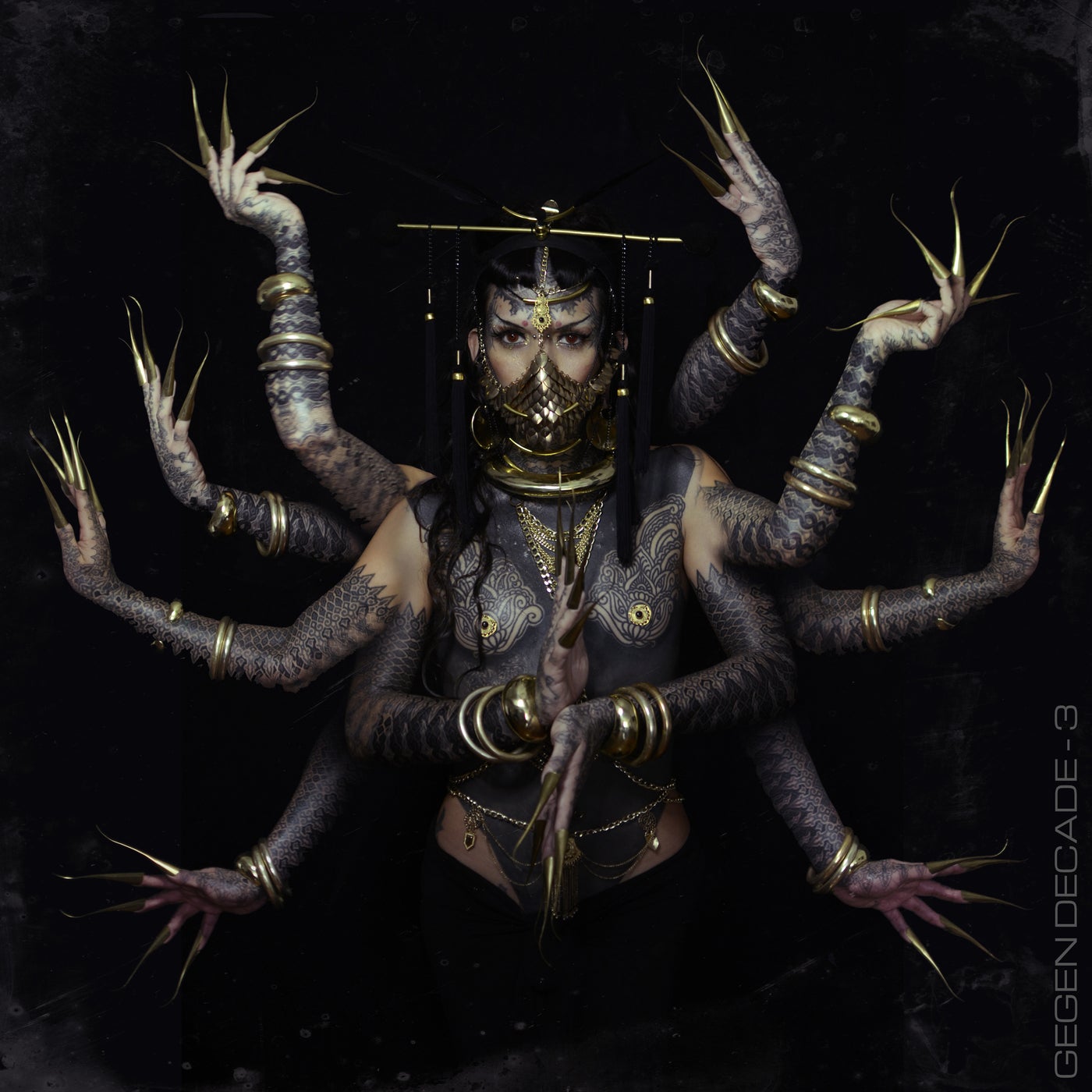 RELEASE: GEGEN DECADE III
ARTIST(S): Ayarcana, Dominik Muller, Espectra Negra, Huren, Hypnoskull, Kareem, Liza Aikin, SKD, Stave, Years Of Denial
REMIXERS:
LABEL: Gegen Records | GGN10YRS3
GENRE: LOSSLESS, Techno
RELEASED: 2021-10-15
AVAILABLE FORMAT: 1162Kbps/LOSSLESS
DOWNLOAD SIZE: 366.38 MB
TOTAL TRACKS 10
Ayarcana – Igne Natura (05:38)

key, bpm96

Espectra Negra – Cyber City (04:58)

key, bpm140

Hypnoskull – Im Gegenzug (04:31)

key, bpm145

Kareem – whyareyousoscared? (BUNKERPROOFBULLET-MIX) (06:31)

key, bpm125

Liza Aikin – Muriel (05:14)

key, bpm140

Years Of Denial – Pleasure (07:04)

key, bpm128

Dominik Muller – I saw her at K. – Str. 76 (06:16)

key, bpm67

Huren – Pool Footage (05:22)

key, bpm124

Stave – Grain (05:13)

key, bpm138

SKD – Serpents of the Snake Pit (04:08)

key, bpm120
Total Playtime: 00:54:55 min
GEGEN DECADE / 10 YEARS OF GEGEN PART III
"We must embrace unity, not separation – sharing, go back to small, caring communities. Unity, not separation, is what has to happen.." – Genesis P-Orridge
Celebrating 10 years of existence with a statement, Berlin's GEGEN is releasing a solid 3-part compilation, grounding their work of the past decade into the newly founded label's sonic aesthetic by showcasing the artists that have been at the heart of the infamous party series. This VA is a bundle of 30 tracks hailing from the true ride-or-die residents at the core of the project to the headliners whose support have propelled the collective from day one as well as up-and-coming artists that Gegen takes to heart to support.
Curated with our love for techno's history of diversity in mind, this release travels through different subgenres and BPM and takes you from classic techno to industrial, hardcore to breakbeat, deconstructed to acid. Whether you are up for an ethereal epic eerie journeys (Ellen Allien, Femanyst), looking to get dirty in punk distortion (Hypnoskull, Bombardier), needing to release energy on some tense walkyrie anthems (Paula Temple, Espectra Negra, Ayako Mori), wanting to indulge in some raw hard hitters (Ayarcana, Tunnel, Esther Duijn), losing yourself in spacious hypnotic trips (Cristian Marras, La Fraicheur & Leonard de Leonard, Non Reversible, Lady Maru), craving from some groovy cuts (Bloody Mary, Mar/us, Years of Denial) or wishing for deconstructed and drums focused tracks (SKD, Scalameriya), you will find what you are looking for in this compilation that proudly represents the Gegen sound.
The compilation is built on an sonic narrative arc, with releases growing harder, faster and harsher, as would the curating of a Gegen night.
Produced by Gegen Records

Mastered by Gio / Artefacts Mastering
Distributed by News Distribution

"Moirai" Trilogy : Artwork by Andrea Galad//